| | | | | |
| --- | --- | --- | --- | --- |
| | european atomic forum | | | |
---
---
International Conference on
CAN SLOVAKIA SECURE ENERGY SUPPLY AND SUSTAINABLE DEVELOPMENT WITHOUT NUCLEAR?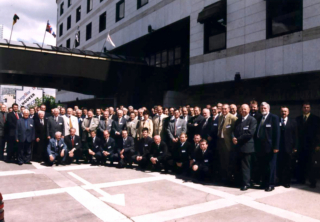 GO NUKE SLOVAKIA!
VENUE: Bratislava, Slovakia, FORUM HOTEL
DATE: May 5-6, 2004

ORGANIZERS:
European Nuclear Society (ENS)
FORATOM - European Atomic Forum
Slovak Nuclear Forum (SJF)
Slovak Nuclear Society (SNUS)

SPONSORSHIP:
Pavol Hrušovský, Chairman, National Council of the Slovak Republic (NR SR)
Štefan Luby, President, Slovak Academy of Sciences (SAV)
Miroslav Rapšík, Board Chairman and CEO, Slovak Electric (SE)


CONFERENCE ORGANIZATION


Co-Chairmen
Vice-Chairmen
Tibor Mikuš, SJF President
Bertrand Barré, ENS President
Jiří Suchomel, SNUS Chairman
Peter Haug, FORATOM Secretary General
Program Committee
Organization Committee
Peter Líška, VÚJE Trnava, Head
Karol Bodorik, SJF, Head
Karol Bodorik, SJF
Jiří Suchomel, SNUS
Jiří Suchomel, SNUS
Stanislav Hudcovský, SNUS
Sabyasachi Chakraborty, CENS, HSK
Peter Líška, SJF
George van Goethem, EC
Eduard Metke, SJF
Andrew Teller, FORATOM
Helena Nováková, SNUS
Andrej Hanzel, SE
Eduard Strýček, SJF
František Janíček, FEI STU
Secretariat
Miroslav Lipár, IAEA
Štefánia Murínová
František Pazdera, NRI Řež, ČR
Mária Siváková
Vladimír Slugeň, FEI STU
Peter Uváčik


Language
English, Russian, Slovak, Czech with simultaneous translation.